WHAT AM I DOING
Felting and felting on silk are art techniques which use luxurious natural materials - wool and silk. I have discovered them by chance and they have impressed me immediatelly. They allow me to create beautiful fashion accessories-scarfs, hats, jewels and different small nice things to please myself and my friends. Each piece is hand made original. I find inspiration everywhere around. I wished you to find in my GALLERY a piece which you will enjoy so much that you would like it to revive your warderobe and underline your style.
MATERIAL
For felting I use wool from Merino sheeps.Merino wool is soft, smooth and pleasant on the skin. Merino wool is most suitable for felting on silk, because of it merges with natural silk easily. Silk I use as a basis for all scarfs, most often very fine transparent silk chiffon, transparent organza or dense soft silky fabric Pongee (habotai). All theese silks are very light, soft and very pleasent to wear. For some projects I color or batik silks with powder colors. For decorations I use medium thick Shetland wool or natural curled wool from Irish sheeps, when I want to achieve contrast of used materials, or fine shiny silk fibers when I want to add to a pattern a touch of luxury.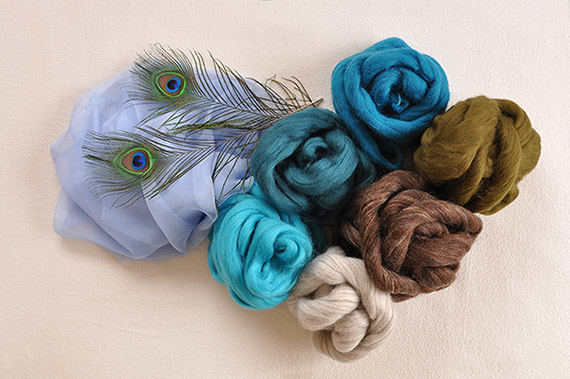 TECHNICS
Felting is one of the oldest wool processing techniques. Primitive procedure, in which raw wool is soaked, rolled up and rolled until it merges, felts and solid fabric - felt - is created, is used by nomadic tribes unchanged to this day. I use more modern process, easier and faster way of processing of wool with help of soft soap, hot water, pressure and mechanical motion The basic difference is usage of high quality soft wool and in case of felting on silk (nunofelting) also high quality soft silk fabric. With the help of heat and mechanical motion the scales of wool fiber will open, bind and tie each other and at the same time a thin layer of wool is inseparably connected with silk backing. This process leads to wool shrinking by approximately one third and also to shrinking of underlying silk, by which interesting patterns are created on both sides of silk.
MAINTENANCE
Silk does not like synthetic detergents, after its usage it looses shine. Too hot water is damaging wool too. Therefore I recommend to wash it in hand with soap in water max 40° C, wring out water softly, shape into required shape and to dry spread on towel. If needed, iron at low temperature like silk, but it is not necessary.